Husqvarna offers the widest range of garden equipment that allows you to solve most of the tasks of year-round maintenance in your summer cottage and at the same time significantly save time and labor costs. The company's experts have compiled a rating of the 5 most popular gasoline tools "Husqvarna", the quality and reliability of which have retained the trust of consumers for more than one year (just read reviews on the Internet), and the technologies used in their development simplify their handling and increase the effectiveness of the results …
---
1. Husqvarna 135 chainsaw
The Husqvarna 135 gasoline chain, which has long become the classic choice of any summer resident and the key to effective gardening, will close the pool of important tasks for collecting firewood, clearing an area of ​​small trees, pruning branches and cutting building material.
An easy start will help you get started quickly on the site. Convenience is provided by an ergonomic design, a low weight of 4.4 kg and a proprietary Low Vib anti-vibration system.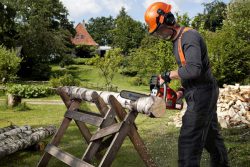 The user will also appreciate the high-quality "filling". The engine with patented X-Torq technology delivers more torque, up to 75% less emissions and up to 20% less fuel consumption. The practical owner will also be pleased with the Air Injection centrifugal air cleaning system, which reduces engine wear and increases the intervals between air filter cleanings. Given the year-round use of the chainsaw, each of the technologies used is aimed at the durability of the tool and the most comfortable use of it.
Cylinder displacement: 40.9 cm³
Power: 1.5 kW (2.0 HP)
Bar length: 16 "(40 cm)
Weight (without cutting equipment): 4.4 kg
Recommended retail price (as of May 2017): 12,990 rubles.
---
Husqvarna TF 338 cultivator
2. Petrol cultivator Husqvarna TF 338
To prepare the soil, the TF 338 motor-cultivator was developed (especially for the Russian market!), Designed for work on areas even with difficult terrain.
A wide range of accessories will make it easy to carry out various types of gardening work. The TF338 petrol cultivator can be retrofitted with plows for plowing the land, hilling beds or digging out potatoes, as well as a set of subsoilers.
Practical, agile and easy to transport, it is powered by the powerful 212cc Husqvarna engine. cm, as well as two forward gears and reverse. The motor has a design with an aluminum body and a built-in cast-iron cylinder liner, which allows the summer resident to consume a minimum amount of fuel, while maintaining the lowest noise and vibration levels.
Cylinder displacement: 212 cm³
Power (max. At 3600 rpm): 5.6 kW (7.5 hp)
Cutters: 8 pieces with a diameter of 360 mm
Working depth: 30 cm
Weight: 93 kg
Recommended retail price (May 2017): RUB 37,990
---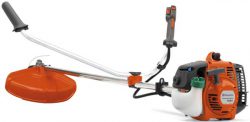 3. Gas cutter Husqvarna 128R
To perform work on cutting grass and shrubs in small areas or in places with difficult terrain, a lawn mower (trimmer, scythe) is required. The 128 R model has been the most popular among Husqvarna petrol trimmers in Russia for many years.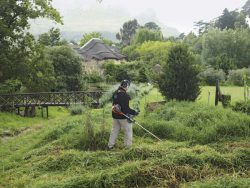 This lawn mower has a rich basic equipment:
semi-automatic trimmer head (Tap-n-Go) with cord,
metal 4-blade knife for tall and tough vegetation, capable of cutting grass into swaths,
comfortable harness on two arms for more comfortable mowing,
protective cover for safe operation.
Smart Start ensures quick and easy starts, and the innovative, environmentally friendly 0.8 kW E-tech II engine delivers high performance. For the convenience of brushcutter users, it is equipped with an auto-return ignition switch.
Cylinder displacement: 28 cm³
Power: 0.8 kW (1.1 HP)
Layout: bicycle handles
Weight (without cutting equipment): 5.0 kg
Recommended retail price (May 2017): 13,490 rubles.
---
4. Self-propelled petrol lawn mower Husqvarna LC 253S
New for 2017 – LC 253 S – will be needed by summer residents to work large areas and level the lawn by adjusting the cutting height. Equipped with a modern powerful engine with an Auto Chock system, low noise and vibration levels, the new product will become almost invisible, but at the same time an effective assistant on the site.
Cutting height adjustment – central: 6 positions in the range of 25-70 mm. The handles have soft pads and an ergonomic shape that allows you to turn on / off the functional control levers with one hand. In addition, the handles are adjustable and ensure the compactness of the folded mower during storage and transportation.
The model combines two types of work: mowing with collecting grass in a grass catcher (by the way, it is made of a special fabric that blocks dust formation) and ejection of the cut grass back. However, it can be retrofitted with a special BioClip kit for mulching mode, when the cut grass is repeatedly crushed to a mulch state and, quickly rotting, turns into a natural fertilizer for the lawn.
Engine: Briggs & Stratton 650EXI, 163 cc
Drive: rear wheels, one speed
Working width: 53 cm
Cutting modes: collection into the grass-catcher, ejection back; optional mulching
Weight: 32 kg
Recommended retail price (May 2017): 39,990 rubles.
---
5. Husqvarna 122HD60 petrol bush shears
Another type of work that a summer resident should take care of is forming bushes and trimming hedges on the site. The quietly working 122 HD60 petrol cutters will delight their users and their immediate neighbors.
The hedge trimmer is equipped with the SmartStart system, which provides easy starting of the engine and reduces the resistance of the starter cord by 40%. The stress on the user's wrists and forearms is relieved by the built-in proprietary LowVib anti-vibration system. To make it easier to trim the sides and tops of the hedge, all you need to do is adjust the rear handle of the scissors, and a long cutting blade will help you get to remote areas.
Cylinder displacement: 21.7 cm³
Power: 0.6 kW (0.8 hp)
Knife length: 59 cm
Weight: 4.9 kg
Recommended retail price (May 2017): 14,990 rubles.
---
Husqvarna, as your reliable partner, in addition to a large selection of garden equipment, offers original accessories, spare parts and services to more than 500 of its dealers throughout Russia, where you can not only buy products, but also get expert advice and full service.
---
INFORMATION ABOUT THE COMPANY HUSQVARNA
The Husqvarna Group is one of the world's largest manufacturers of forestry, park and garden equipment: chainsaws, lawn mowers, lawn mowers, garden tractors, snow throwers.
Husqvarna means 328 years of innovation and premium quality!
High technology, a strong corporate spirit and a desire to create quality tools have helped the company make its way from manufacturing weapons to sewing machines, stoves, motorcycles and, finally, landscaping technology. Continuously pushing technological boundaries, Husqvarna remains at the forefront of engineering today. Husqvarna tools are used in the forest park industry around the world, enabling hobby and professional gardeners to achieve the best results.
The Husqvarna Group has offices in more than 100 countries and employs 14,000 people. In 2016, the company had a turnover of SEK 36 billion.